Museum News
The Museum Needs You!
Help the AGHS Museum preserve and explore Australia's golfing history. We are embarking on a project to comprehensively catalogue and audit our nationally significant golf collection as recommended by the National Standards Program.
The goals are to:
Ensure all objects are registered
Perform basic preservation and conservation work.
Through this, we will better understand and manage our collection. It will give us the ability to:
offer improved exhibitions and programs,
provide better collection care
rationalise the collection and
increase accessibility of our museum items to AGHS members and the public.
This long term essential project needs volunteers. With just a few hours a week, fortnight or month, you can make a difference. No special skills are required and all training will be provided.  If you do have a particular skill though, such as photography or computer competency, or a specialist area of knowledge, let us know.
The museum is also offering interested volunteers the opportunity to be trained in Mosaic, our collection management software. The developers of Mosaic are conducting workshops to be held in Manly in June. Mosaic is easy to learn, close to unbreakable and the trainers are very friendly and down-to-earth.
Email the museum on museum@australiangolfheritage.org.au or call Vicki on 0433 990 982 for further information. We need YOU!
---
Vale Dan Cullen
The Society has lost a great friend and supporter with the passing on 26 January of long time member and Patron, Dan Cullen at the age of 101 after a short illness.
Born in Bunbury, Western Australia on 15 November 1914, Dan's career in golf began almost by accident when he and his younger brother were caught pinching figs from a tree on the Mt. Yokine (now Western Australian Golf Club) course. By way of penance, they were set to weeding greens which - in turn - led to caddying.
This then progressed to a traineeship at Mt. Yokine under the guidance of professional Eric Alberts, joining the PGA in 1932, moving to the Cottesloe Club with Alberts, and then to the Nedlands Club by himself. This was the start of a career in which he developed a well-earned reputation as a respected Club Professional and capable golfer.
In 1937 Cullen won the West Australian Open, and in 1938 successfully defended his title. In 1939, he defeated South African Bobby Locke in an exhibition match at Royal Perth Golf Club. Cullen credited Locke, one of South Africa's most successful professional golfers, with developing his career as a professional.
After moving to Sydney, Cullen enlisted in the RAAF in 1941 and was ultimately posted to Europe piloting Lancaster bombers with 460 Squadron - a job that held less than a one in four chance of surviving the 30 sorties necessary to complete an 'operational tour'. Cullen flew 32 operational flights over Europe.
On one of these operations - to Friedrichshafen in April 1944 - Cullen and his crew had a narrow escape for which he was awarded the Distinguished Flying Cross. According to the citation:
Flying Officer Cullen's work has always been of a very high standard. His courage and skill as a pilot have ensured success of many operational sorties.
In April, 1944, he took part in an attack on Fredrickshafen. While on the outward flight, the aircraft was damaged by heavy anti-aircraft fire and one engine rendered unserviceable. The mid-upper turret was put out of action and the petrol tanks holed. Despite these serious handicaps and although still 100 miles short of the target, he pressed on in most adverse circumstances and completed the mission successfully.
You can read Dan's full service record here.
Upon returning home to Australia in 1945, Cullen was appointed Club Professional at Roseville Golf Club before moving to St Michael's Golf Club. He taught the game of golf to thousands through Cullen's Driving Range, which he operated in the late 1960s and managed today by the St Michael's Golf Club in Little Bay.
Between 1948 and 1960, Cullen served as Director and Chairman of the NSW PGA, prior to his appointment as President of the PGA, which he held from 1951 - 1955.
In 1977 at the age of 64 Cullen qualified for The Open, the oldest qualifier in the history of the tournament, and teed off in a field alongside Jack Nicklaus, Seve Ballesteros, Bob Shearer, Graham Marsh and Gary Player.  
In July 2015 Cullen received the Legion d'Honneur Medal, the highest decoration in France, for his active service during World War II.
Cullen's long and loyal service to the golf industry and the dedication he showed in promoting the game will continue to be remembered.
Dan's funeral will be held on Tuesday 2nd February at St Mary's Cathedral.
The Australian Golf Heritage Society extends its sincere condolences to the Cullen family.
---
Museum Hours - 27 December 2015
The Museum will not be opening on Sunday 27 December 2015. Sincere apologies to anyone planning a visit on that day.
The Museum will next be open on Sunday 3 January 2016.
---
2015 Australian Open Display
The Australian Golf Heritage Society's display tent at the 2015 Open was in a very good position as part of the hospitality and merchandising  area, and near to a huge electronic scoreboard. To further advertise our presence, the people who organised the merchandising tent asked if they could have a mannequin - dressed in period attire - to stand in their tent. They were thrilled when we obliged.
We were busy nearly all the time over the four days, with visitors from all parts of Australia, plus New Zealand, Ireland, and England. We made a lot of connections as our guest book will attest.
One of the highlights was meeting up with June Howe's daughter Kim. We had been searching for June for some time to add her name to the list for possible Oral Histories. Kim has told her that her mother is not all that well, but is anxious for us to have all her memorabilia, including her  blazer from when she represented Australia against Great Britain in 1955.
---
A couple of stories out of school . . . .
Story #1
An AGHS volunteer talking to a young boy:
"Are you following anyone?"
"Yes" said the boy, "John Senden."
"He's a very good player." the AGHS volunteer volunteered, "Do you play golf?"
"Yes." replied the lad.
"Do you get lessons?"
"Yes," advised the youngster, "but not any more."
"Oh, you should continue to get lessons if you want to improve!" said the volunteer by way of encouragement. "Does your dad play - he may be able to teach you."
At this point the boy looked to his Mum, who said "It's okay, you can tell."
"My Dad is John Senden."
Said volunteer conceded the match, and the fact that his Dad might be able to teach him a little about golf.
Story #2
An AGHS volunteer (not the same one) was chatting to a couple who were admiring some hickory display clubs,
"Have you ever played with the hickory clubs?"
"No" replied the lady "But I have a couple in my wardrobe."
After a little more polite conversation, the volunteer invited the lady and her husband into the display tent and out of the hot sun. They started to talk about ladies golf, and the volunteer mentioned that the AGHS had recently secured a grant which the Society was going to use for the recording of Oral Histories of prominent lady golfers, for example,
"Ladies who had been involved in golf, or had won an Australian Championship."
"I haven't won one of those," said the lady, and paused for effect. "I have won two, and the New Zealand Open Championship as well. My name is Judy Perkins."
Reliable eyewitnesses have reported that alleged volunteer was seen to fall from his chair. While he was being resuscitated, a more circumspect member of the volunteer troupe recorded contact details.
---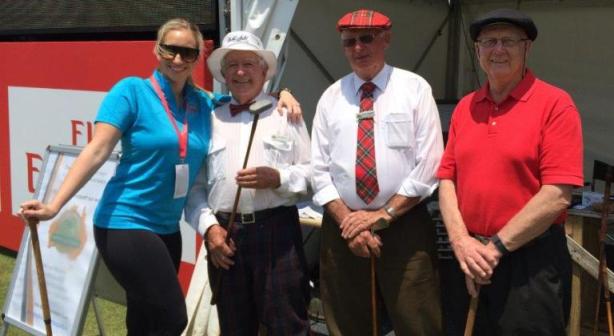 Another shot of the volunteers being 'busy nearly all the time . . .'
Many thanks to all our helpers - John Buckley, Tony Doggett, Jim Glenday, Tom Moore, Bruno Pase and Norm Richardson.
- Tom Moore & Jim Glenday. Photographs courtesy of Jim Glenday.
---
Change in Museum Hours
Anyone intending to visit the Museum on Sunday 25th October should note that we will be closing at 2:00 pm rather than the normal time of 4:00pm. Museum staff are taking a rare half-day off to play in the annual Liverpool friendly hickory game.
---
Recent Acquisition - September 2015
The Museum recently received a number of unique objects donated by Mr Bob Ball. Mr Ball worked for many year at Slazengers at a time when golf manufacture in Australia was at its peak, and when Australian golfing equipment was exported to many parts of the world. The donation includes:
the first set of 'Gary Player' offset irons, considered outstanding equipment at the time of manufacture,
three volumes of technical manuals detailing the specifications of hundreds of iron and wood models manufactured by Slazengers,
a copy of the 1919 NSW Government publication The Hardwoods of Australia and Their Economics by R.T. Baker. This book is significant in that it was presented by the author to Carnegie Clark, who is said to have tested all the timbers available in an attempt to find a local resource that could be used in the production of wooden clubs,
additional historical volumes from the early 20th century including 2 PGA Yearbooks from the 1920s.
The collection is currently being assessed for significance, and individual preservation needs.
---