Special Exhibitions
Kel Nagle -
The Gentleman of Golf

.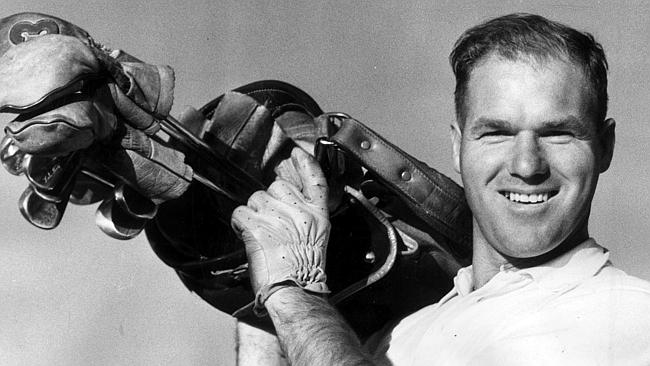 Kel Nagle in 1954
Best remembered for his victory in the centenary Open Championship in 1960 at St Andrews, Kel Nagle racked up over 80 career titles. Assistant golf professional at Pymble Golf Club prior to serving in World War Two, Kel began his professional playing career in 1946. His first notable success was the Australian PGA Championship in 1949. From then until 1975 he won at least one tournament annually.



 Kel holds a record 81 wins on the PGA Tour of Australasia, including six Australian PGA Championships, an Australian Open, seven New Zealand PGA Championships, and seven New Zealand Opens. Among other wins were a Canadian Open, French Open, Hong Kong Open and Swiss Open. He partnered his great friend Peter Thomson to twice win the Canada Cup (now the World Cup), and was runner-up after a playoff in the 1965 U.S. Open.


Kel's achievements in golf  were recognised with a Medal of the Order of Australia. He has been inducted into the NSW Hall of Champions, the World Golf Hall of Fame, and the Sport Australia Hall of Fame. The Australian PGA Championship's best performing rookie is awarded the Kel Nagle Plate. Kel's greatest accolade is the universal respect accorded him as the 'Gentleman of Golf'.
The Australian Golf Heritage Society is proud to celebrate the life and achievements of Kel Nagle with a display which includes many unique objects, a display of Kel Nagle endorsed equipment, and - in a first for the Museum - a dedicated video presentation.
---


Kel Nagle - National Library of Australia Recording
Unfortunately, the Australian Golf Heritage Society was not fortunate in obtaining an Oral History recording of Kel Nagle. However, the National LIbrary of Australia did, and have allowed us to post a direct link to the interview. Recorded on 27 August 1990, you can listen to the 64 minute interview here.